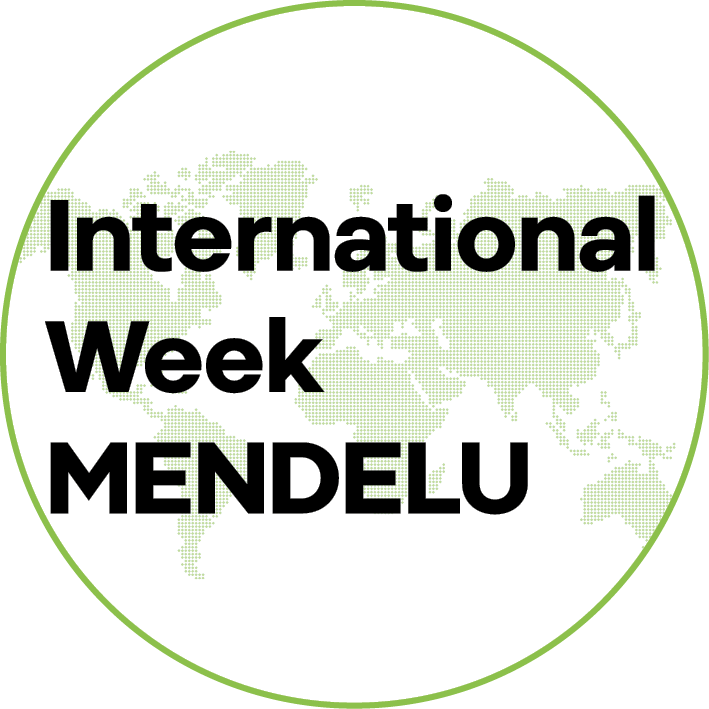 16 – 20. 10. 2023
Consorcia – Connecting Universities
Brno, Czech Republic
Why IW?
The IW 2023 will give participants an unique opportunity to find out more about our university, network and share best practices with other colleagues working for the international, study abroad offices or professional academics. 

Joint programmes
EU universities
Strategical partnership
Capacity building KA2
Open Project meeting: U2U
Erasmus Mundus Joint Master Programme
Best Practices
Information
Target Group

both academic and non-academic staff of different fields of study

Language

English (at least level B2 is required)

Duration

5 working days (16. – 20. 10. 2023)

Costs

The fee will cover the programme, participants are expected to cover their travel and accommodation costs and field trips (it is recommended to use an Erasmus+ grant provided by your home university) 
University
Mendel University in Brno (MENDELU) is a public institution with a long tradition of excellence in teaching and research that has driven new ways of thinking since 1919 and proudly bears the name of J. G. Mendel, the founder of modern genetics. There are over 8,300 students at the university. Mendel University offers more than 100 different graduate degree programmes in Czech and in English languages. The University comprises one Institute and five faculties: AgriSciences, Horticulture, Business and Economics, Forestry and Wood Technology, Regional Development and International Studies. The university campus is based in Brno, just ten minutes from the city centre. The university provides students with modern well-equipped classrooms, laboratories, and study rooms. A library, canteens and a pizzeria also form part of the campus as well as a large botanic garden and an arboretum, which is a great place to study or relax.
IW
Attending only the International Week 2023
---
Networking activities & Workshops, Transfer of knowledge
Sharing of experiences and best practices among colleagues from partner and non-partner institutions
GoAbroad Fair & International Market 
Individual meetings with representatives of the particular departments and discussion on cooperation possibilities 
The fee is approx. 75 EUR, the payment is done in Czech Crowns – 1800 CZK (not including the field trip)
Field trip
Field trip to Lednice Chateau & winetasting at Faculty of Horticulture
---
On Wednesday, participants can join us for a field trip.
We will visit the beautiful Lednice Chateau, a world UNESCO heritage.
Lednice Chateau is the jewel in the crown of the Lednice-Valtice Complex and, at the same time, one of the most beautiful complexes in the English Neo-Gothic style in the whole of Europe.
We will also visit the Faculty of Horticulture, where we will go to the gardens and have a winetasting.
Additional payment applies, the trip costs approx. 35 EUR, the payment is done in Czech Crowns – 850 CZK
Payment Info – enter your payment amount (according to the selected type!) in Czech coronas to the third column – Participation fee, and country of origin in the Flywire form at https://pay.flywire.com/
– IW only: 1800 CZK
– IW + field trip: 2650 CZK
Payment method – select your preferred payment method to complete your payment in your home currency. For debit/credit card payments, enter your card details online to complete your payment in your home currency. For bank transfers, follow the instructions provided to send your funds. Depending on your bank, payment may be made online, in person, or over the phone. 
Note: Additional local payment options may be available depending on the country you are paying from. 
Payer Info – enter some basic information to initiate your payment booking. 
Info for the receiver – enter only your name, surname, and email and as the Program name write International Week 
Review & Confirm payment information 
Make payment 

Deadline for payment: September 30, 2023
Programme
The Programme is not ready yet, we will update it soon once we have confirmation of all workshops.
Monday
Time
Agenda (16. 10. 2023)
meeting point
9:00
Registration
building A (Auditorium)
10:00
Opening ceremony
Welcome speech and introduction to the programme of International Week 2023
building A (Auditorium)
10:30
Panel discussion: to be updated
building A (Auditorium)
12:00
Networking lunch
canteen (building X)
–
to be updated
–
18:00
Pub quiz
to be updated
all day
Lectures & Individual meetings at particular departments (throughout the day)
–
Tuesday
| Time | Agenda (17. 10. 2023) | meeting point |
| --- | --- | --- |
| | to be updated | – |
| 18:00 | International Market | canteen (building X) |
| all day | Lectures & Individual meetings at particular departments (throughout the day) | – |
Wednesday
| TIME | AGENDA (18. 10. 2023) | meeting point |
| --- | --- | --- |
| | to be updated | – |
| 10:00 | Trip to Lednice Chateau | in front of building A |
| all day | Lectures & Individual meetings at particular departments (throughout the day) | – |
Thursday
| Time | Agenda (19. 10. 2023) | meeting point |
| --- | --- | --- |
| | to be updated | – |
| 18:00 | Farewell dinner and Closing ceremony | building X |
| all day | Lectures & Individual meetings at particular departments (throughout the day) | – |
Friday
| Time | Agenda (20. 10. 2023) | meeting point |
| --- | --- | --- |
| 9:00 | Administration | building Q (International Office – Q1.92) |
| 10:30 | Brno city tour | in front of building A |
| all day | Lectures & Individual meetings at particular departments (throughout the day) | – |
Accommodation
We recommend the following: 
For Mobility Agreements, please use the following information: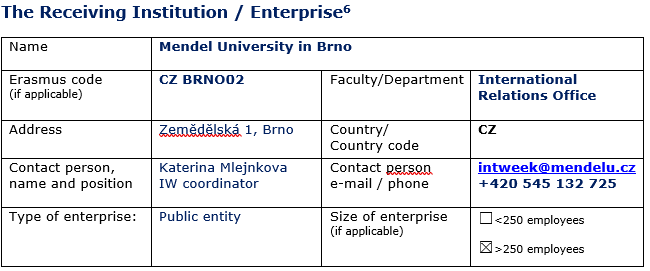 Contact
Mendel University in Brno
Zemědělská 1665/1, 61300 Brno
IČO: 62156489
DIČ: CZ62156489